Although this picture was taken a while ago, Drew Barrymore is flaunting one of the hottest hair trends for this season—the bouffant updo. If you want to try something new, here's how to get this high volume style: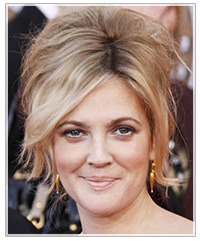 • This style works best with hair that is slightly wavy. So if you have curly hair, blow-dry your hair smooth, leaving a slight wave in at the end. A round brush can help you achieve this look. If you have straight hair, use medium to large hair rollers to set in some curls.
• After your hair has a bit of wave added to it, grab a fine comb and start backcombing, concentrating on the crown area where you will create your mini-bouffant. Give your roots a spritz of hairspray after they have been backcombed to hold in the volume.
• Create a loose off-centre hair part like Drew has done here. Or, if it suits your face shape, you could also go for a centre part.
• Leave some layers out to frame your face, and then softly comb the rest of your hair back, leaving the tension loose at the crown area.
• To secure the hair in the back, you have a few options to choose from. You can roll it into a French twist or create a bun. For a more casual look, you can even flaunt a groomed ponytail—choose whatever suits your outfit and the occasion.
This is a fabulous look for Fall 2012, try it out and let us know how you worked it!
To see how you'd look with the great hairstyle pictured in this blog, click on the above image to try the virtual hairstyle with your own photo!