Dawn Olivieri is an actress blessed with the genetics of a high fashion model. Large, wide-set eyes, high cheekbones and full lips- are we jealous much?! But, she also has a narrow face shape, which can pose problems with certain hairstyles. For example, wearing a super slick, flat hairstyle would create a gaunt look on Dawn and highlight her super slim physique. Thankfully, she knows how to pump up the volume and wears high volume hairstyles to "fill out" her narrow face shape. If you have a rectangular or otherwise long face shape, this hairstyle will work for you too. And, it's easy to do.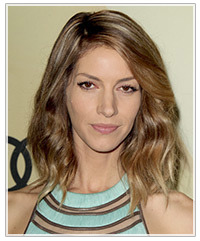 First, you will need to have a shoulder length bob hairstyle that is slightly layered. This hairstyle is great for narrow face shapes as the cut can be contoured to look more rounded and give volume to the hair. Next, use a curling wand to add loose waves to the mid-lengths and ends of the hair. Instead of trying to preserve the waves, separate them by backcombing them slightly at the roots and combing through the ends with your fingers. Once you have 'fanned' out the ends, add a spritz of flexible hairspray to keep it in place.
This 'do looks just as good with a pair of jeans as it does with a cocktail dress, so give it a try if you like versatile styles!
To see how you'd look with the great hairstyle pictured in this blog, click on the above image to try the virtual hairstyle with your own photo!