British singer Cheryl Cole is bringing back the demi-updo, maybe following the lead of the Duchess of Cambridge who is often seen wearing a similar hairstyle. Cheryl's, of course, is much less demure and more 'pop star', so if you want to try an edgier updo, this may be the one for you. And, it's oh-so-easy. Just follow these steps: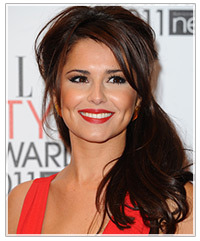 1. Start by setting your hair in large hair rollers to give it volume on the crown and curls at the bottom.
2. To get extra height on the top, take small sections of hair and backcomb the roots. Then spray with hairspray.
3. Once the entire crown has been backcombed, gently comb the hair back towards the back of the head and give it a small twist before pinning it into place. The twist is the secret trick to give it that "bubble" on top!
4. You can pull your bangs back if they are long enough, but if you prefer to leave them out like Cheryl, create a side hair part and let them frame your face.
5. For an extra sexy look, sweep all the hair that is loose to one side like Cheryl has done and voila- your half updo is complete.
To see how you'd look with the great hairstyle pictured in this blog, click on the above image to try the virtual hairstyle with your own photo!