America Ferrera's a natural beauty with dark exotic features and thick glossy hair, not to mention a great little curvy figure! She likes to experiment with her hair, not so much in hair color but in style, namely curly vs. straight, but which look is the best for her? Have a look at our style guide below and decide for yourself.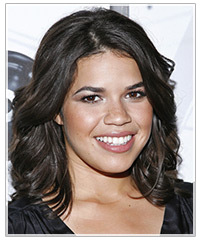 Here, America is looking sophisticated and mature in a shoulder length wavy 'do. This frames her face nicely and gives her a sophisticated look.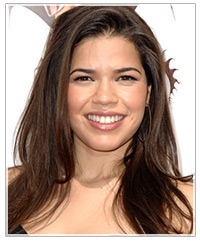 In contrast, this longer straight look gives her more volume and a looser, more casual look. The long layers look great with her face shape and give her a flirty, fun style.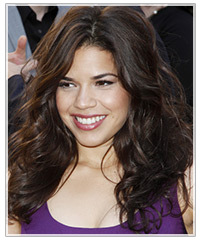 Back to curly, but longer this time; America looks vibrant and youthful with her large waves and super volume in the crown area. This is a sexy bombshell look for America.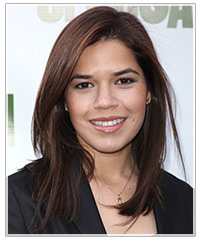 More recently, America was seen wearing a layered straight 'do that falls just past her shoulders. This is sophisticated look for America and is all about business.
What hairstyle in your opinion is best for America? Leave a comment below.
To see how you'd look with any of the great hairstyles pictured in this blog, click on the above images to try the virtual hairstyles with your own photo!