Costa Rican beauty and television presenter Veronica Bastos usually rocks up to events looking fiery and fabulous. Blessed with long, thick hair, almond-shaped eyes and a perfect smile, Veronica is made for working in front of the camera. Unfortunately, she was caught flaunting a makeup fail recently. If you are a Latina and have a complexion similar to Veronica's, avoid a similar fail by heeding these tips: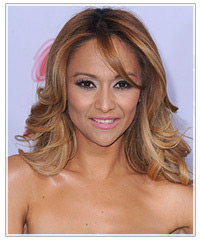 • Latinas will usually have a lot of warmth in their hair, even when they go blonde. Like Veronica, it will probably go golden rather than icy white. With this in mind, it will be difficult to pull off cool colors like silver and pink when it comes to makeup, but it can be done.
• If you want to wear silver on your eyes. Stick to a dark charcoal with a metallic sheen to it. This will avoid the chalky look as seen here, caused by eye shadow that is too light and too matte.
• On your lips and cheeks, don't go for a pastel pink. Instead, go for one with more of a peach-pink color to it and make sure it has some sheen in it (found in a cream formula for lipstick and highlighter or cream blush).
For even more helpful makeup hints, see our full range of beauty articles and beauty blogs. You can even try some virtual makeup on your own photo or our model using our Virtual Hairstyler!