Although Tamela J. Mann's glowing complexion definitely helped her look radiant, her makeup looked phenomenal as well. If you have dyed your hair a deep true red like Tamela, try her makeup technique out—it's the perfect pallet for ladies with intense red hair.
First of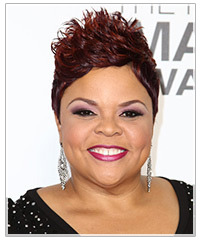 all, you gotta have perfect eyebrows like Mann. Get out the tweezers and make a nice frame for your eyes by plucking out stray hairs under the arch. Then, start layering shades of purple on your eyelids. Start with pink as a base and then layer a rich plum shade in the crease of the eyelid, pulling it up slightly towards the brow bone. Espresso brown eyeliner and mascara complete the eye makeup portion of this look.
Tamela kept her cheeks bare, which is a good move when you are going to wear so much pink on your eyes and lips. Speaking of the lips, choose a head-turning shade of deep berry lipstick to bring out your eye makeup and hair color like Tamela has done here. This is a bold look that is best for the evening—you can add more sparkle to this look with a piece of statement jewellery or a glittery gown.
For even more helpful makeup hints, see our full range of beauty articles and beauty blogs. You can even try some virtual makeup on your own photo or our model using our Virtual Hairstyler!