We all know she is into healthy living, and like all Hollywood celebs has had work done, but there is no way that this woman looks 65. She is the eternal California girl—from her platinum blonde hair color hair to her sunny disposition, Suzanne is an inspiration to women of any age. Even after her battle with breast cancer, Suzanne is still going strong. She's written books on everything from hormone replacement therapy to eating a healthy diet, but if it's makeup tips you are after, just follow her classic Somers look.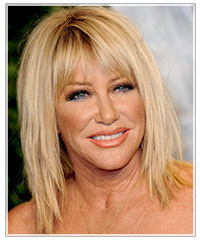 Suzanne has light blonde hair, so her makeup will suit over-sixties who also have light blonde or white hair, with a warm skin tone. In this photo, she is wearing a warm peach eye shadow which is perfect for bringing out blue or green eyes. She also has some smoky eye shadow going on, but for a simpler look top it off with dark brown eyeliner and mascara only. She is wearing a bronzer below the cheekbones…but she also has unnaturally smooth skin for 65, so for everyone else, it's best to avoid this. Use a light peach lipstick to finish it all off. Over-sixties and under-sixties alike will love this simple makeup look!
See more Suzanne Somers hair and makeup looks.