Recently on the red carpet, the usually flawless-looking Stacy Keibler was sporting some seriously unflattering makeup. The statuesque beauty rarely gets it wrong, but in this case she wasn't on top form with her makeup (or hair for that matter, but that's another post). Let's see what went wrong…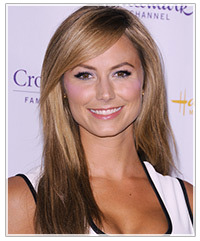 Stacy is a natural brunette who highlights her hair to a dark blonde. Her skin is fair but it has warm undertones and a tan on top of that, so she should stick to warm makeup palettes. Here, however, she has gone for cool icy pink as the main color of her makeup, which clashes with her warm skin and golden hair color. Bronze, peach and apricot shades would have been a better match, especially with her dark brown eyes.
Next, we have blush overkill in a chalky, pastel pink. This shade only really works on cool fair skin so if you are warm, avoid this blush shade.
Finally, we have the classic face-doesn't-match-the-body complexion problem, as a result of wearing a foundation shade that is too light. Stacy would have done better with a darker foundation shade or at least a healthy dose of bronzer to get rid of that chalky look. Let's hope this is a one-off for Stacy and she invests in a better makeup artist!