Stella McCartney's models at her Spring/Summer 2013 show were bare faced, except for a striking line of teal on the bottom lash line. This is an uber-trendy way to wear your makeup this season, along with these other teal looks: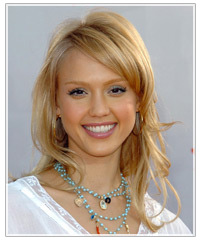 Jessica Alba wears teal eye shadow here to match with her turquoise necklace. This is a lighter way to wear teal, rather than using vibrant eyeliner. To get this look, simply sweep a teal shadow on your eyelid and blend in towards the crease. Top it off with mascara and a neutral lipstick.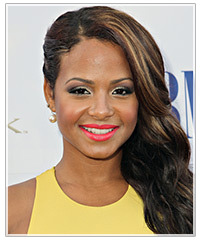 Christina Milian works metallic teal into her smoky eye makeup for an electrifying look. Use vibrant teal eye shadow rather than a silver or brown on your smoky eye to get this bold result.
Elise Neal puts the Stella McCartney technique into action and uses a metallic teal eye pencil on the bottom lash line only—a hot look for a night on the town!
Teal eye makeup is a fun addition to any girl's beauty regime and looks especially good on dark skin tones. So what are you waiting for? Go and get your green on!
For even more helpful makeup hints, see our full range of beauty articles and beauty blogs. You can even try some virtual makeup on your own photo or our model using our Virtual Hairstyler!