Is Selena Gomez still with Justin Beiber or not? That seems to be the question on everyone's lips right now- but who cares?! Take a look at how hot Selena is looking at the moment. Working her exotic features, tanned skin and dark brown hair, Selena looks smoking in metallic earth tone makeup that will suit anyone with a warm skin tone, especially with brunette hair.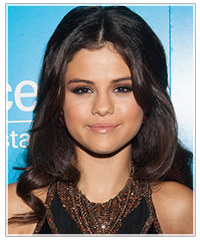 Selena has started with a gorgeous copper base eye shadow on her eyelids, blending it up towards the brow bone. Then, she has layered a rich brown shade in the crease and on the outer eyelid corners. Selena has pulled some of that deep brown shade under her eyes on the bottom lash line to make her eyes pop even more. Followed by a coating of mascara, Selena's eyes are made up to perfection.
To finish off the rest of her face, Selena has kept it warm and shimmery with a bronzer on the apples of the cheeks and a semi-glossy nude pink lipstick. This makeup style places an overall focus on the eyes and if you are a brunette, on your hair color as well. Do a Selena and work a high volume hairstyle with a high sheen finish to polish the look off.
For even more helpful makeup hints, see our full range of beauty articles and beauty blogs. You can even try some virtual makeup on your own photo or our model using our Virtual Hairstyler!