Oh, Sarah Jessica Parker. You are usually so stylish and "New York" looking, but this recent makeup job is the pits. Your hair is looking especially silky and the hair color is divine, but that eyeliner-sigh.
It just goes to show that even ridiculously talented, wealthy and stylish women can get it wrong and they are after all, only human. For the rest of us mere mortals, let's take a lesson from SJP's makeup fail.
Tips to Avoid SJP's Makeup Disaster: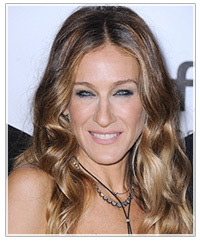 • If you have small or close-set eyes, do not line them entirely in black eyeliner. It will have the opposite effect of enlarging them and make you have very small-looking raccoon eyes.
• If you are going to have a smokey eye, back it up with some eye shadow. Here, SJP looked like she rubbed her eyes to smoke out her makeup, but some darker eye shadow in the crease and blended out towards the brow bone and outer corners would've made her eyes look bigger, and better.
• Ladies with thin lips should not rock a matte or completely nude lipstick. Gloss and color are essential to make the lips stand out and look fuller.
• If you're wearing cool eye makeup (silver) and cool lipstick (pink), use a cool blush (pink)- not a ruddy bronzer. Or, wear warm (bronze) eye makeup and a beige lipstick instead.