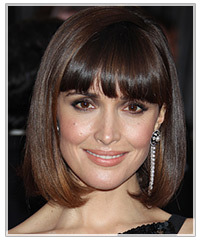 Rose Byrne has been flaunting a dark shade of chestnut hair lately and frankly, it's working very well for her! Once upon a time she looked great as a blonde, but her rich skin tone and delicate features are more pronounced as a brunette. Here, her pageboy bob looks fantastic with her choice of makeup for an all-over classy and sophisticated image. For all the brunettes out there, here's how to get the look:
The palette: Rose's makeup is all about the earth tones. Look for neutral shades of beige and brown eye shadow, blush and lipstick.
The application: starting with the brows, make sure they are perfectly groomed to provide a great frame for the eyes. Layer shades of brown on the eyelids, starting with a neutral bone shade on the lid and working your way down to a deep espresso shade in the crease and outer corner of the eye.  Bring the medium and dark shades around the lower lash line and smudge it out for a sultry look. Finish it off with black or dark brown mascara.
When it comes to your cheeks, use a soft nude blush to highlight the apples of your cheeks, like Rose. If you have a wide face, apply it just under the apples for a slimming effect. Finally, use a nude lipstick to finish it all off. And forget the lip gloss-- matte or semi-matte lipstick work best for this look!