Rachael Ray has a huge fan base following and has now become a beauty icon of sorts for middle-aged women. And why not? With her healthy brunette hair, large brown eyes and megawatt smile, Rachael radiates energy, confidence and beauty. As a TV personality she is no stranger to makeup and has some pretty good day and evening looks under her belt. Here are her best: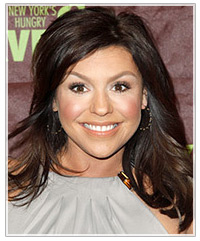 Brunettes look fab in peachy tones for the daytime. Here, Rachael keeps the eyes light in an ivory eye shadow but makes sure they pop by wearing a deep brown liner and mascara. Her cheeks and lips are the main focus and have a healthy glow thanks to a light peach bronzer and lip gloss. Just remember not to pick a lippie shade that is too light to avoid looking washed out.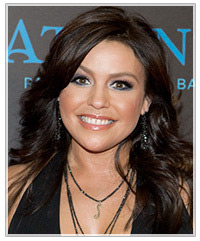 Here, Rachael takes it into night-time by adding bright aquamarine eyeliner to the mix. This is a magnificent shade to wear with brown hair and brown eyes, so don't be afraid to try something new! To avoid color overload, Rachael has used this only on the bottom lash line and kept the top line brown. She is rocking her signature peach bronzed cheeks and lips, only this time has glammed it up with some gloss.