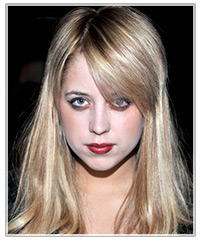 Peaches Geldof—would she be famous without that last name? Most likely not, but she has had some interesting hair and makeup looks during her career as a socialite.  Peaches  seems to be a wild child, and is usually rocking a look straight from the dark side. Whether it be her clothes, makeup or many tattoos, Peaches always injects a bit of rock n' roll into her style.
If we just look at the hair (above), this is a good look. Her long thick hair has been highlighted with champagne blonde and honey highlights. Her face shape benefits from her heavy side-swept fringe that has been layered to blend in on the sides. The makeup, on the other hand, is a definite "don't". Peaches is going for the gothic look which may be ok for a costume party, but wear with caution on a day-to-day basis.
Her heavily rimmed bottom lash line makes her look tired and ill. She has beautiful fair skin but her foundation is too light and chalky, giving the dreaded vampire look. Finally, her tawny lipstick is too warm for her skin tone. For a glam goth look, go for a simple black cat's eyeliner and a blood red lip instead.
See more of Peaches Geldof's hair.