Supermodel (and now super mom) Miranda Kerr was looking lovely on the red carpet recently. The stunning Victoria's Secret model certainly knows how to create a gorgeous look from head to toe, but let's concentrate on her fabulous hair and makeup in this photo, which is suitable for women with warm skin tones.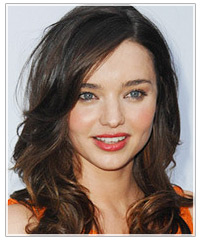 Miranda's hair always looks healthy and glossy, thanks in part to her deep brunette color. Although highlights on brown hair can add a nice sun-kissed looked, it can also take away some of the shine. Miranda gets the best of both worlds by adding subtle highlights to the ends of her hair only, leaving the top layers in peak condition but adding just a touch of sun to her locks at the ends. A simple side-swept fringe and loose curls polish her hair off nicely.
On her face, Miranda highlights her blue eyes with a warm golden eye shadow that has been brushed up towards her brow bone. Her cheeks are emphasized with a peachy pink blush to create a summer glow. Finally, she wears a gorgeous coral pink lipstick. When choosing a bright color like this, try a sheer lipstick like Miranda so it doesn't overpower your look.