Actress and singer Maria Canals Berrera is bang on trend in this photo, rocking chic makeup that perfectly harmonizes with her cool skin tone and glossy brown hair. Many people think that if you have brunette hair and dark eyes, you automatically have warm skin, but this is not true. Maria is the perfect example of someone with a medium cool skin tone, and she knows what to wear to make her complexion glow.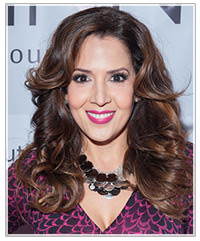 Take the outfit, for example. Black and fuchsia looks amazing on women with cool skin tones, especially with blonde or black hair. Maria also gets it right with silver jewellery that matches her complexion (warm gold wouldn't look so hot).
When it comes to her makeup, Canals knows just the colors to make her features look dazzling. Her dark eyes are highlighted with a cool black eyeliner and softly smoked-out black and dark grey eye shadow. Her cheeks have a cool rosy pink blush on the apples to give that "I've just been out for a brisk walk" kind of glow. Finally, her lips pack a punch of cool color with a bright raspberry pink lipstick that not only matches her dress but her skin tone and eye color as well. If you have cool skin, this is one look that you need to try out!
For even more helpful makeup hints, see our full range of beauty articles and beauty blogs. You can even try some virtual makeup on your own photo or our model using our Virtual Hairstyler!