If you are currently rocking a shade of auburn in your hair, chances are you are using cool colors to compliment your hair and skin tone. Or maybe, you go au naturel. In any case, auburn seems to be the new hot shade in Tinseltown these days, and with an army of makeup artists and stylists on hand to make sure they always look fabulous, it's a great place to get some new makeup ideas. Here are some of the latest celebrity makeup looks for auburn hair: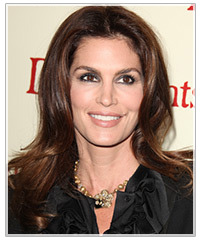 Cindy Crawford is looking chic and sophisticated with her dark auburn highlighted hair and smoky eye makeup. This is a sexy evening makeup look for auburn-haired vixens who like to make an impression wherever they go. To copy this look, simply line the entire eye with black eyeliner and softly smoke out the edges. You can also add a warm brown eye shadow for extra drama. Finish it off with a soft nude-pink lipstick and a light dusting of pink blush on the cheeks.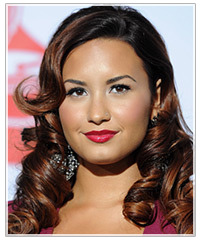 Demi Lovato takes a bold approach to her makeup here with bright berry lipstick. Berry shades go well with auburn hair (or in Demi's case auburn highlights) because they both have pink-red tones. Demi finishes off her glamorous look with black liquid eyeliner and a pink highlighter on her cheeks.