"Real" housewife and former actress Kim Richards has been on camera long enough to know what looks good on her, and what doesn't. This is an example of what doesn't. If you have mature skin, take note of this makeup fail and avoid the following mistakes: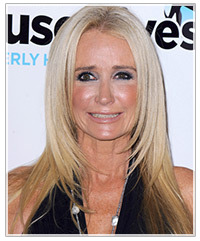 • Our dark circles get more prominent as we age, but that doesn't mean we need to apply concealer in progressively lighter shades. Choose a concealer that is one shade lighter than your skin tone with an orange or yellow (not white!) base. This counteracts the purple tones that give us dark circles.
• Hard black eyeliner around the entire eye looks harsh on a twenty year old. For mature women, the results are even worse. Lining your entire eye in black adds tiredness and age to your face…why would anyone want that? Line the top lash line only if you must use black, and smudge the edges out to make your eyes look bigger, and softer.
• Do not use silver eye shadow if you are orange. The over-tanned look doesn't suit anyone, but if you love to soak up the sun then stick to warm palettes—apricot, bronze, and so on.
The most important thing to remember if you have mature skin is that less is more. Keep your makeup soft, fresh and light.