Leona Lewis burst onto the music as the winner of the UK talent show The X Factor. The receptionist-turned-global superstar now has a multimillion dollar recording contract, hit number one singles, and probably the best styling team that money can buy! Leona has pledged to always stay true to her roots, but seems to be experimenting with her look more and more these days.
Blessed with a gorgeous golden complexion and large feline blue eyes, Leona has some great natural assets to work with. Her hair is usually worn long and blonde, with cascading soft waves. She's most likely one of those girls who can roll out of bed and look good without a scrap of makeup on, but being a girlie-girl at heart, she loves to play around with makeup.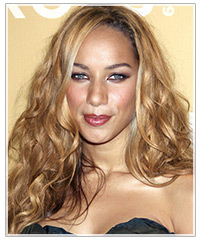 She makes the most of her almond-shaped eyes by lining them with kohl black eyeliner, and smoking out the edges for a true cat's eye shape. Her skin is very warm, so she chooses complimentary eye shadow shades like cinnamon brown, gold and copper to add intensity to her eyes.
Her full lips don't need any help to look good, but when she does wear lipstick she opts for a pretty rose pink or a deeper berry shade for evening.
See more Leona Lewis' looks.