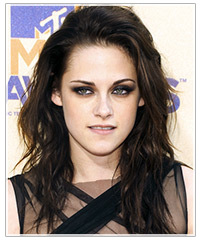 Kristen Stewart looks just as vampy off-screen as she does on-screen. With those large brooding eyes, porcelain skin and espresso-colored hair, she pulls off the romantic-gothic look flawlessly.
Kristen is rarely seen smiling, (which just adds to her sulky allure) but in these photos she, dare we say it, looks somewhat pleased with herself! And well she should, because this effortlessly sexy hair and makeup is to die for.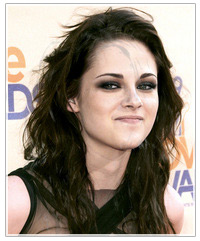 Kristen's long hair has been layered, with loose tousled waves showing off her multidimensional cut. She has a high hairline which suits this part-less hairstyle. If you have medium-long layered hair with a bit of a wave, add some hair mousse to your locks and let it dry naturally. The result will be similar to Kristen's cool, messy hairstyle. If you have poker straight hair, this look will take some hair preparation work by first adding loose waves to dried hair, then essentially shaking them all out!
As for makeup, copy Kristen's smoky eye shadow technique by using layers of black, brown and cinnamon tones around the upper and lower lash line. Blend well for a smoldering look. Add a bit of gothic edge by keeping the lips bare and matte.  
See more Kristen Stewart hair and makeup looks.