Kristen Stewart has really been on top of her fashion and beauty game during the Twilight promo tour. And recently, she was spotted flaunting a hot makeup look for the winter—wine-colored eye shadow. This rich color is so easy to pull off in the winter when fashion and beauty takes on a rich, dark turn to match the long dark nights of the season. Wear wine for your next festive event like a Christmas party or glam New Year's Eve bash and look ultra festive! You can follow these steps to get Kristen's look at home in minutes: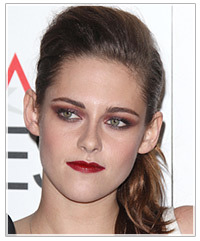 1. Start with a neutral base like soft brown or beige and apply to the eyelids and eyebrow bone.
2. Then, layer on a gorgeous rich wine shade in the crease and extend it out past the eye like Kristen has done here. Blend it in well to create a soft airbrushed look.
3. Using an angled applicator brush, apply the wine shade underneath the bottom lash line and join the wing tip at the outer corner.
4. Finally, apply a top layer of metallic chocolate brown on the bottom lash line and top lash line, leaving the wine shade to peek out in the crease.
5. To match this gorgeous eye makeup, you need an equally lush lipstick. Kristen has chosen a garnet shade, but any rich red or purple will look fabulous.
For even more helpful makeup hints, see our full range of beauty articles and beauty blogs. You can even try some virtual makeup on your own photo or our model using our Virtual Hairstyler!