Light eyes and dark skin are such a gorgeous combination on their own; makeup isn't even needed in most cases. However, if you need some new makeup ideas, look no further than Korrina Rico. Her light green eyes and café latte complexion always look stunning, and the best news is her makeup style is very easy to copy.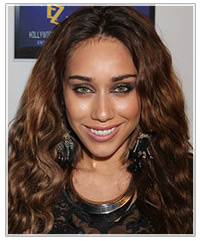 To start with, Korrina lines her entire eye with a black eyeliner pencil. This makes her green eyes look even more feline (lucky her!) but if you have small or close-set eyes, line the top lash line only. Use a makeup brush or sponge to softly blend out the edges for that soft, smoky look. Next, use shades of dark grey and silver across the eyelid, with the darkest color in the crease, followed by black mascara to finish it all off.
The eyes are obviously the focus of this look; so keeping the lips neutral are a must. Korrina has used a gorgeous soft pink color here, which is natural but adds that extra bit of glam. This is a simple and gorgeous look that is a must-try for women with light eyes and dark skin!