Kimberly Perry is known for her signature wavy blonde locks, and of course, her vocal talent as well. She rarely makes a makeup faux pas, and this look is no exception. If you have fair skin and blonde hair, this is one daytime look that you need to copy! It takes minutes and is the perfect balance of glam and natural for daytime wear. Here's how to get it: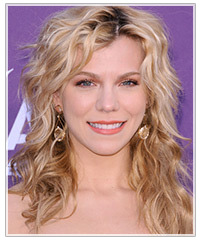 1. Start with a flawless base like Kimberly. Her fair complexion isn't enhanced with any blush, bronzer or highlighter, just her natural glow!
2. To bring out her blue eyes, Kimberly has used a peach eye shadow on the lids, blended up towards the brow bone. This is a great color for blue eyes, but if you have green or hazel, try a pink tone instead.
3. On the lips, use a natural sheer pink color with a hint of sheen. Ladies with red hair can go for brighter pink tones to match the intensity of their hair color.
4. This step is optional, but Kimberly always enhances her gorgeous look with some jewelry. Get inspired and add some funky earrings or a statement necklace to really stand out from the crowd.