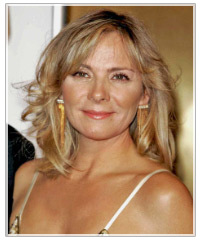 Is there any woman who wouldn't kill to look like Kim Cattrall when they hit 50? Smooth porcelain skin, svelte figure and an all-over youthful glow are Kim's well-known attributes. Cattrall credits a healthy lifestyle and strict fitness regimen for her youthful looks, but she also knows how to play up her best features with her hair and makeup.
Kim knows that less is more when it comes to makeup. She highlights her sparkling eyes and glowing complexion with soft warm hues like copper, gold and cinnamon brown. Peachy tones also work well on Kim and compliment her golden locks. Cattrall likes to use Bobbi Brown eye shadows, which can be mixed and matched to suit her skin tone.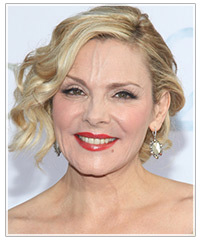 For evening, Kim pulls out all the stops and goes for a classic red lipstick and retro-inspired black eyeliner. This look is high-glam paired with her champagne-colored waves; it's the ultimate Hollywood look. For some extra sparkle, Kim uses a Touch of Light highlighter around her eyes and cheekbones to mask dark circles and tired skin. Perfect for those of us who juggle hugely successful film, television and Broadway careers!
See more of Kim Cattrall's hair and makeup looks.