Khloe Kardashian has been in the spotlight for all the wrong reasons lately but drama aside, she has been flaunting some seriously pretty hair and makeup as well. Here, Khloe goes for a more playful look with her two-toned hair and bright makeup. Whether you are a fan of Khloe's or simply need some new ideas for you hair and makeup, copy her look in a few easy steps!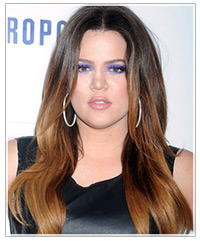 To get this hair color, you will need long hair for maximum effect. You will also need to visit a professional colorist—this technique can be difficult to achieve on your own. Start with a dark brown base, and have your hairstylist graduate the color into a light copper brown throughout the length and ends.
To get Khloe's makeup look, invest in a cool violet shade of eye shadow that is matte, not shimmery. Apply the violet eye shadow on the lids and blend it up towards the brow bone. With a small brush, blend a thin line of the violet eye shadow on the bottom lash line. Line the upper lash line with black or dark brown eyeliner and apply just a bit to the bottom outer lash line, blending to the corner for a cat's eye effect. Finally, enjoy your Kardashian style, without the Kardashian drama!
See more Khloe Kardashian hair and makeup looks.