Let's be honest—the below image must be one of the all-time worst photos of Katy Perry! Admittedly, she is one of the most photogenic stars out there, but this look just isn't working for her.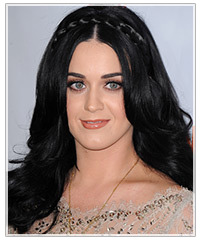 One reason could be the fact that she has gone overboard with the hair extensions. Katy has tons of hair around her face in a dark, monochromatic color, which completely overpowers her. Her makeup palette is another factor in this fail. Katy is sporting jet-black hair which is an extremely cool color (cool as in stylish and cool as in color tone!) and her skin tone and eye color also work better with cool shades. So, why she chose warm, rusty terra cotta tones for her makeup palette is a mystery. If you have a similar hair and skin tone, read on to find out why this is a makeup no-no.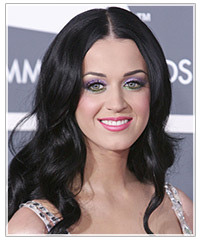 Katy needs to stay with cool tones to make her eye color and complexion look bright and fresh. Women with cool features should stick with pink, silver and purples tones. They can also wear pastels very easily. When they wear rich, warm earth tones like Katy's clay-like shades, it makes them look tired and ruddy. Compare this makeup palette to Katy in cool colors (above) and see just how much of a difference your color choices can make!
For even more helpful makeup hints, see our full range of beauty articles and beauty blogs. You can even try some virtual makeup on your own photo or our model using our Virtual Hairstyler!