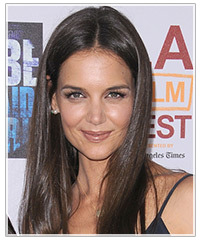 As the wife of Tom Cruise and mother of the most fashionable child on the planet, Katie Holmes is never out of the spotlight. Oh, and she's an actress as well.
While her career is not looking so hot at the moment, there is no denying that Katie Holmes is a real beauty, with a laid-back,chic fashion sense to match. Whether she's gracing the red carpet or on Suri's school run, Katie never looks overdone in the hair and makeup department.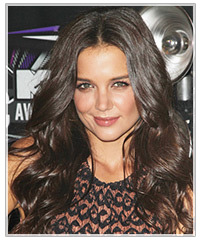 She has nice full lips, which she highlights with a subtle nude-pink lipstick—a great match for her olive skin and dark tresses. Her dark blue eyes stand out on their own, but to add more definition, Katie uses dark brown eyeliner that is softly smudged around the upper lash line. To compliment her warm skin tone, Katie uses peach, coral and pink tones on her eyes and cheeks, for an all over healthy glow.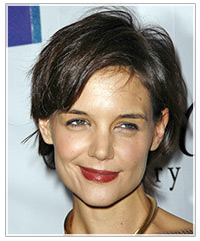 She does, however, get it wrong with red lipstick in this photo (right). Instead of choosing a warm, orange-based red to match her eye shadow, she has chosen a cool red, which clashes with her skin tone. If you have dark hair and a warm skin tone, go for fire engine red instead.
See more of Katie Holmes' hair and makeup.