Kate Upton is usually seen in her trademark buttery blonde hair and Californian-bronzed makeup palette. And it's no wonder why—this look suits her image as a bikini model perfectly. However, lately she has been mixing it up a bit, as seen at this recent celebrity-studded gala event. Kate was looking paler with darker hair and dare we say… much more sophisticated! Let's check out her latest look in closer detail.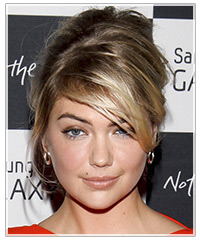 Kate's hairstyles usually range from bouncy prom-queen curls to loose, unkempt waves. Here, she has tried a glamorous updo and side-swept bangs with great results. Her dark ash blonde roots are clearly visible but it actually works for her. The ash color tones down her brassy blonde ends and gives her an overall darker look. Plus, it matches her eyebrows!
As for her makeup, she has opted for a more natural look here. A change from her usual heavy black eyeliner, Kate is wearing a soft brown liner with a bronze eye shadow that brings out her eye color nicely. A simple nude lipstick finishes this look off.
Overall, Kate Upton is looking stylish and sophisticated with her latest hair and makeup style. Keep it up Kate!