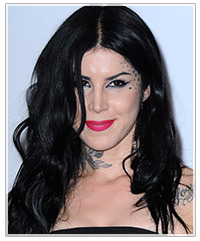 Kat Von D is no shrinking violet when it comes to her personal style— rocking jet black hair, numerous tattoos and lots of leather clothing, she can definitely turn heads wherever she goes. Kat has dark eyes to match her dark hair, and paired up with her fair skin, she has a great canvas for dramatic makeup looks. In this photo she is flaunting a simple yet striking makeup look with a pop of pink to finish it all off. If you have the same hair color and skin tone as Kat, you can pull this off too. Just follow these easy steps:
1. Perfect your base with a high coverage foundation. The beauty of this look comes from the contrast of flawless fair skin and rich jet-black hair.
2. Using a liquid eyeliner pen, line your entire top lash line and create an exaggerated flick at the end. On the bottom lash line, start at the inner corner and continue all the way across to the flick, so you have the cat's eye effect.
3. Leave your cheeks blush-free and then apply a vibrant hot pink matte lipstick. It's also a good idea to use a lip liner in a matching color before you apply your lippie to minimize bleeding.
For even more helpful makeup hints, see our full range of beauty articles and beauty blogs. You can even try some virtual makeup on your own photo or our model using our Virtual Hairstyler!