Julianne Hough has recently toned down her hair color, going from light beige to a dark honey blonde. She went from light to cool tones as well, and it appears that her complexion can pull both off both ends of the spectrum. Lucky her!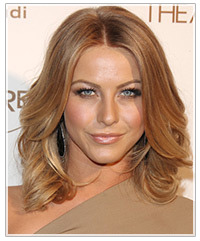 The deeper shade makes her hair look extra healthy—anyone with light blonde hair knows that going darker instantly adds more gloss—and it shows off her new retro style. To copy Julianne's look, it is best to have shoulder-length hair, although you can do similar versions with short and long hair as well.  
To get those gorgeous curls, blow-dry the hair smooth and then use rollers to curl. Instead of curling the hair under, wrap the section out and around the roller vertically to get that swept-back look that Julianne is flaunting here. Once the hair has been set, gently comb it into place, separating the curl slightly but maintaining a smooth, polished form. Make sure you part your hair in the middle for that Seventies vibe.
Of course, great hair is nothing without great makeup. To match her beige dress, Julianne has used sandy-colored eye shadow and a frosted nude lipstick for a modern throwback to Seventies fashion. Choose a pearlescent lippie to get the same effect at home.
See more Julianne Hough hair and makeup looks.