Jordin Sparks is always pictured looking flawless. From her shiny hair to her glowing complexion, Jordin knows how to let her natural beauty shine through while always looking prim and polished.
When it comes to her makeup, her style is clean, elegant and timelessly feminine. If you have a similar skin tone to Jordin, you will look amazing in this peachy pink palette that is perfect for summer.
Here's how to get Jordin's look: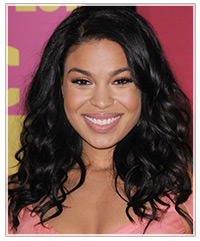 1. The eyes: Jordin brings out the warmth in her skin with a soft bronze eye shadow and black eyeliner. Often, bronze eye shadows are very metallic and heavy looking so choose a sheer one like Sparks for your base. If you're rocking this look for the evening, add some smokey chocolate eye shadow on the outer corners.
2. The cheeks: Jordin has great cheekbones, and brings them out with a light bronzer applied to the apples of the cheeks. Apply your bronzer sparingly as it can easily become overkill paired up with the bronze eye shadow.
3. The lips: A soft rose lipstick looks fabulous with warm dark skin tones. Instead of a cream lipstick, choose a tinted gloss or sheer lipstick instead.