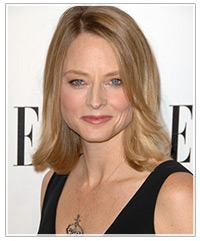 Screen legend Jodie Foster is known for her award-winning acting ability and her overall simplistic beauty. Jodie has a very distinct look but her intense blue eyes are her trademark feature, which she lets take center stage with her natural approach to makeup. Regardless of your age, you can copy this easy makeup style as part of your everyday beauty regime.
Jodie's makeup always highlights her intense blue eyes with minimal makeup. Above, she uses a light golden eye shadow to bring out her baby blues. She's not one for dramatic eyeliner; usually she uses a soft brown or black on the upper lash line and bottom outer corner. Her lips and cheeks have a hint of peachy pink to offset her fair skin. This looks shows how Jodie can look elegant on the red carpet without tons of makeup!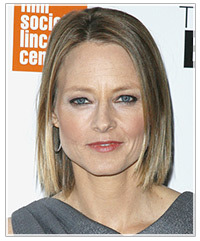 In a more recent look (left), Jodie's hair color has turned to an ash blonde and her makeup has cooled down as well. She is still using a light peachy pink for her lips and cheekbones, but has chosen black eyeliner here instead. This would have been more successful with only the top lash line done, or a light grey around the entire eye. In any case, you can't beat Jodie's natural makeup regime—try this one at home and get glam in under five minutes.