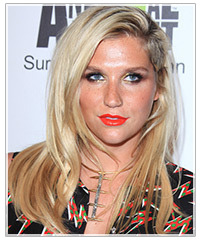 Kesha is quite the wild child when it comes to her appearance. Often seen in clothing that is ripped extensively with makeup that is days old, Kesha knows how to work the non-stop party girl look. However, at red carpet events she can scrub up well, as shown in this picture. 
Kesha is looking very L.A. here, with tanned skin and bleach blonde hair. Although her eye makeup is noticeably smudged, this time it's deliberate rather than the result of a 48-hour bender. If you like the trashy party girl look, here's how you can get it:
1. Start with a dark brown eye shadow and blend it from the eyelid out towards the temples. Use a thinner brush to smudge it around the bottom lash line as well.
2. Use a heavy black eyeliner (pencil, not liquid, for easy smudging) and line both lash lines. Don't extend the line too far into the inner corners, the emphasis should be on the outer corners.
3. Using a sponge or makeup brush, smudge out the eye shadow and eyeliner to your preference. Follow up with a thick coat of mascara.
The eyes are the main focus of this look, but to finish it off use a bronzer on the cheeks and a bright orange lipstick.