Paired with her dramatic dark pixie cut and flawless complexion, Ginnifer's eye makeup gives her a Swinging Sixties vibe—the perfect look for ladies who love to flaunt vintage clothing on a night out. Here's how to copy Ginnifer Goodwin's eye makeup: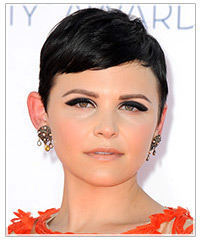 The first step is to highlight your eyebrows. Full eyebrows were all the rage back then, and even now a clearly defined eyebrow is in vogue. Ginnifer has purposely used an eyebrow pencil that is a shade darker than her natural color to get the Sixties effect. Fill in the whole brow to create a smooth, uniform shape.
Using an angled application brush, apply black or charcoal eye shadow to the eyelid. Start on the inner corner with a thin line and then gradually extend the line up over the eyelid. Create a cat's eye effect at the outer corner and then continue to layer the eye shadow to fill in the rest of the shape using a small eye shadow brush.
Finally, use liquid eyeliner on the top lash line, creating an extended wing on the outside edge, matching the eye shadow shape you created with your angled brush. The result should be a thick, geometric cat's eye shape. The point of this eye makeup style is to look bold, so put the blending brush down and enjoy this striking, graphic approach to eye makeup. Pair it up with an A-Line dress for maximum Sixties effect!