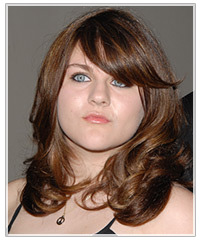 It's amazing how well the daughter of Kurt Cobain and Courtney Love has stayed out of the spotlight. However when Frances Bean Cobain does appear at celebrity events, it is hard not to be captivated by her striking ice-blue eyes and porcelain skin.
In this photo, Frances wears her glossy auburn hair softly curled with long side-swept bangs. This style creates nice angles for her round face and focuses all the attention on those gorgeous eyes.
Cobain's makeup is natural-looking and just enough to make her eyes and lips pop. She has chosen a fabulous peach gloss for her lips, and just a bit of dark brown eyeliner to bring out her baby blues. Women with fair skin and auburn hair can copy Frances' natural look by working with light peach shades of blush and lipstick or lip gloss. For extra drama, try a warm copper or cinnamon brown eye shadow.