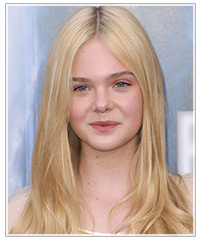 Elle is the little sis of actress Dakota Fanning, and is already taking the world of film and fashion by storm—she already has a Marc Jacobs campaign under her belt and she's only 13! It seems that as her film career starts to build momentum, so does her status as a clothes horse. While some are critical of a 13-year-old's ability to dictate style, at least she sets a good example to other teenagers by wearing natural makeup that suits her age group.
Elle has cute, pixie-like features, fair skin and long blonde hair. She makes the most of her bright blue eyes by wearing black mascara, and neutral eye shadow colors like beige and peach. Her eyebrows are nicely groomed without losing their natural fullness. Being so young, her peaches and cream complexion looks naturally fresh...ah, to be thirteen again!
Elle emphasizes her lips with a bit of pink lip gloss, or a light pink sheer lipstick. Her look is all around natural, and we hope she holds on to this girl-next-door look for a few more years!
View more of Elle Fanning's hair and natural makeup here.