Her makeup style may not be for everyone but one thing is for sure—she always looks comfortable, happy and like she's having a blast. If you want to go crazy and copy Dolly Parton's style, here's how to get it: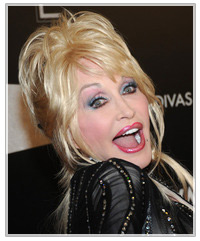 Dolly is the ultimate girlie-girl with her Barbie-like figure and blonde hair, so it's no surprise she wears a lot of pink makeup. Start with a bright pink eye shadow on the lids and blend it up under the brow bone. Then, add cobalt blue to the outer corners of the lid and the crease. Use black eyeliner on both the upper and lower lashes and loads of mascara to top it all off.
Continuing on the pink theme, a rosy pink blush will brighten up those cheeks. A bright fuchsia or berry lipstick is the final ingredient in this eye-catching look.
Of course, you can't do a Dolly without equally fabulous hair. Dolly's hair motto seems to be "Go big or go home!" To copy her hair you need lots of layers, lots of volume, and maybe the odd wig or hairpiece to give it that over-the-top look.
We'd love to hear if any of our readers tried this look…or a pared down version of it. Leave a comment below if you've done Dolly makeup!