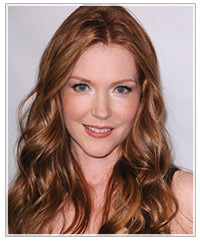 Darby Stanchfield was recently spotted flaunting her gorgeous red locks on the red carpet with pretty makeup to match. Ladies with copper or strawberry blonde hair can pull this look off easily in just a few steps. Here's how:
Darby has started to bring the attention to her eyes by filling in her eyebrows slightly. This can be tricky for redheads because the perfect pencil shade may be hard to find in the shop. If you've experienced this, try finding a shade of matte bronzer or eye shadow that matches your hair color and dab it in gently with a makeup brush.  Continue bringing out those eyes with crisp black eyeliner on the top lid, or use brown for a more natural look. Of course, no eye makeup is complete without a coat of mascara.
Darby gets her rosy glow with a peach blush applied to the apples of her cheeks. To copy this look, blend it out towards the temples to bring out your cheekbones even more. To top it all off, Darby uses a peach-nude lipstick that matches her cheeks and hair color. This look uses warm autumn colors, but can be worn in all seasons. To vamp it up for night, choose a glossy lipstick and add a smoky eye shadow.
See more Darby Stanchfield hair and makeup looks.