We've seen Cheri Oteri in numerous personas on TV, but she looks most stunning when playing the role of herself, especially on the red carpet. Here she is flaunting beautiful, feminine makeup that looks fabulous with her light green eyes and porcelain skin. Let's find out how she got the look.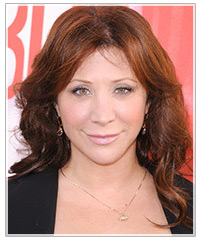 First, Cheri started off with a color palette for cool skin. Her red hair and porcelain complexion is best suited in pastel colors and soft grey, which Oteri has used on her eyes, cheeks and lips.
The next key to this look is getting that soft, airbrushed look. All of Cheri's products have a sheer highlighter in them—from her lipstick to her eye shadow, her makeup reflects light and gives off that dewy vibe.
If you want to try this look, find a high quality highlighter to use on your cheekbones, eyebrow bones and temples. Then, layer soft gray eye shadow on your eyelids and line the lash lines with a smoky grey eyeliner pencil. Blend it out slightly at the edges and apply soft black mascara. A highlighter should suffice on the cheeks, but you can also use a light dusting of sheer pink for that extra rosy touch. Finally, use a pearly pink lipstick to complete this powdery pretty look!