If you live in the UK, you'll probably know who Cher Lloyd is. For those who don't, she gained fame on The X Factor. Even though she didn't win, she went on to become quite successful and is now touring in America.
If you saw Cher in her X Factor days, you'll know that her style was, in a word, juvenile. After all, she refers to her Twitter followers as her 'brats'…but all that aside, Cher is growing into her own style nicely, complete with a recent sophisticated makeover to help her break America. Cher's always had beautiful brown hair, but her makeup style was often cartoony and clownish in the past. All that has changed however, and Cher is looking ultra glam. If you are a brunette, you'll want to try this makeup look out!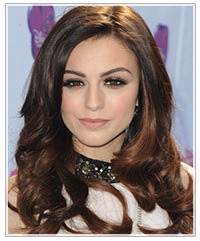 • Start with a metallic gold eye shadow as a base. Apply it to the eyelid and underneath the bottom lash line.
• Use a deep chocolate brown in the crease and outer corners, using a circular motion to blend it in.
• Apply a dark brown eyeliner pencil or liquid pen in a thin line around the top and bottom lash lines, followed by deep brown mascara.
• On the cheeks, go for a soft peach blush applied just under the apples.
• Match your lips by using a nude lipstick that has a hint of pink to give a naturally glam look.