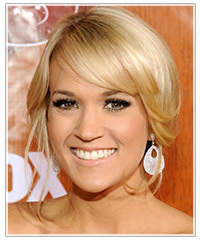 Not everyone who has blonde hair has blue eyes, yet look at any makeup palette and you will see that the colors are geared toward this combination. Although having brown eyes and blonde hair can occur naturally, brunettes who go blonde usually have to switch up their makeup pallets and don't know where to start. Here, we look at Carrie Underwood for some fabulous tips on how to wear makeup when you have blonde hair and brown eyes.
Like Carrie, you will probably have a peaches and cream tone to your skin if you have lightened your hair to blonde from brunette. To match your eyes and skin tone, use chestnut eyeliner like Carrie has here to bring out the rich colors in your complexion. Line the upper lashes (line the lower lashes as well for a more dramatic evening look) and follow with dark brown mascara. Don't use black, as it's too cool for this look and will clash with your eyeliner. For eye shadow choices, go with earth tones like dark copper, cinnamon, brown and nude shades.
A bronzer can warm up the cheeks and add some sparkle. To make your eyes the focal point, use a peach-based nude lipstick like Carrie has. A matte lipstick gives this makeup style a retro feel, while a sheer lip gloss has more glam-factor—the choice is up to you!
See more Carrie Underwood hair and makeup looks.