It's soft, it's subtle, yet it shows that you are on top of the fashion trends and aren't afraid to do something different with your makeup. The great thing about this look is that any skin tone can pull it off, as long as the colors you select work with it.
Here's how you can get Caridee English's look at home in minutes: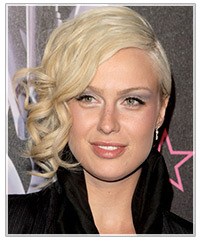 Start off with a neutral base—white, beige and cream shades work for cool skin, whereas warm skin tones can pull off taupe and peach shades.


Using a small applicator brush, apply your "punchy shade" (the one that will create the "box" just above the crease), starting from the inner corner of the eye and moving straight across to meet the end of the eyebrow. Blend it in, using horizontal strokes to maintain the boxy shape.


Use black or brown eyeliner to define the upper lash line and follow it up with mascara. That's it!
Caridee kept the rest of her face neutral, which is a good idea with this eye makeup technique. Feel free to be creative—you don't have to keep it light. By all means, bust out the bright shades and go for a dramatic look!
For even more helpful makeup hints, see our full range of beauty articles and beauty blogs. You can even try some virtual makeup on your own photo or our model using our Virtual Hairstyler!