Bonnie Raitt is known for her rock-solid career as a country singer, but this eternally youthful crooner is also a beauty icon of sorts for redheads everywhere, especially for the over-fifty crowd. Bonnie is the perfect example of how a mature redhead can use minimal makeup to look fresh and youthful in minutes.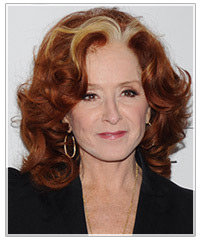 To start, Bonnie has used brown eyeliner to highlight her large brown eyes. Her application technique is great for aging eyes—she has only lined the top lash line and the bottom outer corners to give them some definition. She has kept her eyelids light with a hint of pearl and peach eye shadow that harmonizes well with her rich red hair. Bonnie has also filled her light eyebrows in with a soft brown shade. The key word here is "soft"- especially if you have thin brows!
On her cheeks and lips, Bonnie has used a soft cerise shade that is a winner for women with this tone of red hair and cool skin. If you have mature skin, go for a light-reflecting mineral formula blush to get a fresh glow without the cakey effect. Do a Bonnie with your lipstick and choose a pearly finish for soft, youthful looking lips.
For even more helpful makeup hints, see our full range of beauty articles and beauty blogs. You can even try some virtual makeup on your own photo or our model using our Virtual Hairstyler!