Blessed with dewy skin, large brown eyes and mile-long copper hair, Bella Thorne has a great canvas to work with. And work with her canvas she does—one of her specialties is wearing the perfect makeup palette to match her hair and skin tone. If you have copper or light red hair and a cool complexion, check out how to get Bella's beautiful makeup.
Hint: Not sure if your skin tone is warm or cool? Here are some ways to help you figure it out. If you are a natural redhead with light green or blue eyes, you most likely have cool skin. Still not sure? Look at the veins on your forearm—if they appear blue, you have cool skin. If they have a green-ish tone to them, you have warm skin (in which case you will want to skip this tutorial!).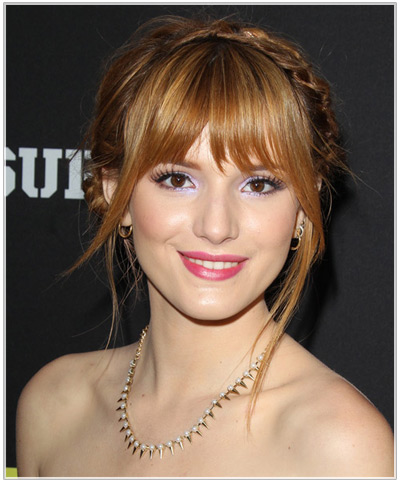 The Supplies:

The first thing you will need is an eye shadow trio in purple. This should have a light shade (such as white, silver or light pink), a medium lavender shade and a dark amethyst shade. Go for a metallic or shimmery formula to mimic Bella's look here.


Next, you will need a cool pink blush and lipstick. Look for a rose colored blush and cherise pink lippie. This is a dewy look, so opt for a blush with a lot of sheen to it (a cream or gel formula is great), and a glossy sheer lipstick.


Finally, invest in a black liquid eyeliner pen and black mascara to match. Bella's favorite brand is Giorgio Armani, so if you have the cash to splash give it a try! It will set you back about $40 USD.


Optional supplies are fake lashes and/or a highlighter.
The Technique:

Start by creating a smooth, flawless base using your favorite concealer or foundation. Bella is a fan of Bobbi Brown and Maybelline concealer and foundations, but these products are personal—choose the brand that has the right shade, price point and ingredients for you.


If you choose to use highlighter, dab it on the inner corners of the eye or on the cheekbones.


To get those fabulous eyes, layer your lightest shade over the entire eyelid. Then, sweep the lavender shade over the lid and blend it past the crease to the brow bone. Dab the lightest shade on the inner corner of the eye with a smaller brush, and pull it down across the bottom lash line with a small angled brush. This will give you that soft ethereal look that Bella is flaunting here.


Use an accent brush to apply the darkest shade in the crease of the eye and blend. A little goes a long way here so just use a small dab to keep the eye area nice and light.


Finish it all off with a thin line of liquid eyeliner and jet black mascara. Add a few false lashes to the outer lash line to get Bella's 'Bambi' look.


Complete the rest of the face by applying your rosy blush to the apples of the cheeks and the cherise lippie to your lips.
For even more helpful makeup hints, see our full range of beauty articles and beauty blogs. You can even try some virtual makeup on your own photo or our model using our Virtual Hairstyler!