Audrey Tautou embodies modern French beauty—simple, chic and elegant. French celebrities like Vanessa Paradis and Carla Bruni are also good examples of beauty Francaise—brunette hair, high cheekbones and thin but well-shaped lips are common French features. Even if you are not French, you too can try out this easy makeup that will leave you looking and feeling très chic. Here's how: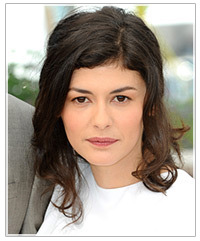 French women are masters of the au naturel look. If you must wear makeup, choose natural shades to give that "barely there" appearance.


In this photo, Audrey is wearing a light nude eye shadow and light mascara on the top lash line—that's it. If this feels too bare for you, add a light coating of mascara to the bottom lash line as well.


Her lips have a subtle berry tone that looks natural but not too nude. Try a lip stain instead of a lip gloss or lipstick to get these flushed-looking lips.


If you want to add some color to your cheeks, use a very light berry pink to match your lips and give you fresh, rosy cheek. Apply it just under the cheekbone to subtly sculpt and define your face.


Finally, don't forget to top it all off with glossy, loose locks that never look too done up. That's how the French roll.