Her super-trendy pixie cut was styled upwards for a messy, Halle Berry-esque look, with a few jagged pieces of her fringe framing the face. This haircut is not only right on trend, but it creates the perfect frame for stunning makeup as well. Here, Angela Bassett is flaunting a soft smoky eye and berry lipstick that looks fabulous with her dark hair and glowing complexion.
If you want to try this look at home, here's how you can get it: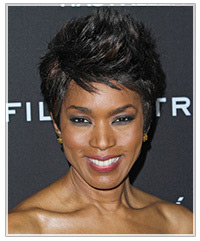 Start by layering up silver and charcoal grey eye shadow on the eyelid with a medium sized applicator brush. Concentrate the darker shade around your lash line using a smaller angled brush.

Create a very thin line around the eye by using a liquid liner or very sharp eyeliner pencil. Black works best if you have dark eyes, but if you have light eyes you can also try a charcoal grey shade.

To keep the eyes as the focus of this look, choose a soft berry pink shade for your lipstick. Angela has chosen a natural looking lip stain in a medium pink shade. If you go the lip stain route, make sure to add a dab of gloss on top for some sheen.
For even more helpful makeup hints, see our full range of beauty articles and beauty blogs. You can even try some virtual makeup on your own photo or our model using our Virtual Hairstyler!