Korean singer Andamiro is gaining recognition not only for her catchy pop tunes, but also her head-turning sense of style. She loves to play up her eyes with bold smokey looks and is a fan of bright orange and red lips that match her reddish-brown locks. If you're a young Asian chick looking for some makeup inspiration, try out the Andamiro look—here's how to get it: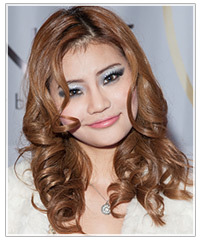 1. Andamiro is all about the eyes and she's not afraid to use bold colors and heavy application techniques to make them pop. To copy this particular look, start by using light metallic silver as a base color. A powder formula will work fine but for extra sparkle, try a cream formula instead. Then, layer on a dark charcoal grey shade in the crease, creating wide wings at the outer corners of the eye, pointing up towards the temples. Use a black eyeliner pencil to line your entire eye and finish it all off with mascara.
2. On the cheeks, use a light pink shade and circle the applicator brush over the apples of your cheeks. If you have full cheeks and want to reduce their "chubbiness", apply the blush underneath the cheekbones instead.
3. Polish that pout with a soft rose lipstick- the perfect match for cool silver eye shadow.
For even more helpful makeup hints, see our full range of beauty articles and beauty blogs. You can even try some virtual makeup on your own photo or our model using our Virtual Hairstyler!