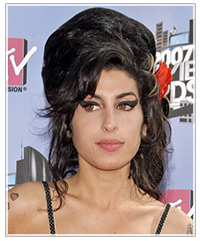 It's been a few months since the tragic passing of legendary songbird Amy Winehouse, but her eccentric style and timeless songs will live on forever. Amy brought back dramatic winged eyeliner, pin-up girl fashion and of course, that fabulous beehive.
Trendy girls everywhere emulated Amy's signature look, and probably will for years to come. She fused old school classics with the modern, edgy London look.  Her tiny frame was often overshadowed by her raven black beehive which made her instantly recognizable on and off stage. Like most women, her hair was a form of security blanket—she often said that the more insecure she felt, the bigger she made her beehive! Amy experimented with short, curly hair and a brassy blonde do', but in the end she always went back to her long, jet black locks.
In addition to her retro clothes, Amy's exaggerated eyeliner was always present. If you want to copy her signature look, simply use a liquid eyeliner to create a pointed cat's eye that covers the entire eyelid and reaches the outer tip of the eyebrow.