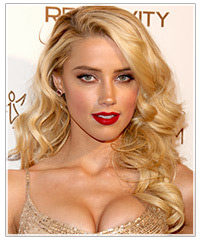 American actress Amber Heard could probably get a job as Scarlett Johansson's doppelganger, not only for her tumbling blonde locks but for her sultry looks and hourglass figure as well. Here, she is flaunting a super sexy look on the red carpet complete with blonde waves, red lipstick and a whole lotta cleavage. Her gold dress is the icing on the cake for this super-hot look.
Amber has gone all out and dressed to impress here, but a good outfit is wasted on boring hair and makeup. Amber's light blonde hair looks gorgeous in these loose curls that have been parted on the side. Instead of emulating a true vintage look with perfect curls and a precision part, Amber has gone for high hair volume in the part and almost beach-like waves to give it a modern edge.
For makeup, Amber has chosen a golden eye shadow to offset her blue eyes and of course, match the dress. Brown eye shadow has been used on the upper and lower lash lines to create a sexy cat's eye effect. Her choice in red lipstick is spot on, as she opts for a true blood red that is not too bright. This look is a definite "must try" for your next night out!
See more Amber Heard hair and makeup looks.