Mexican beauty queen and TV presenter Alejandra Espinoza has spent a huge part of her life in front of the camera, which explains her perfect makeup techniques. Latina ladies with similar tanned skin, dark hair and bold features can copy Espinoza's makeup style to look just as glam as she does on a daily basis. Here's how she does it: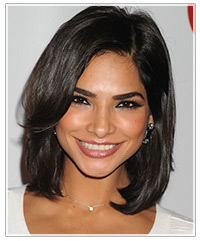 1. Dark eyes and prominent eyebrows are a blessing when it comes to makeup! Embrace yours by grooming your brows regularly, and filling in any sparse areas with a matching dark eye pencil or powder.
2. Use dark brown or black eyeliner to define your eyes. Instead of dramatic thick lines, use a crisp, thin line like Espinoza has done around the entire eye.
3. Choose warm bronze and peach shades. Alejandra flatters her warm complexion with peach, terra cotta and coral shades of lipstick, eye shadow and blush. A peach bronzer also looks fabulous with this skin tone and hair color.
4. Don't go matte. Espinoza shies away from trendy matte lipsticks and always has the perfect amount of sheen in her lipstick and blush. Choose sheer products and let the natural luminosity of your skin shine through.